Gaaaaaaaaaah, school starts tomorrow. Dummbbb. My classes this semester don't look too great, but I'll push through it. And I'll be trying Nano again in November, so that's something to...er...look forward to.
I've been busy making the best out of the end of summer. I managed to do quite a bit this summer, even if I didn't get a job yet. I've been drawing more, and I think I've gotten much better than I was last summer. I at least have some experience with color now, which is something I've always wanted. I also made at least three comics! Well, I worked on three comics. I haven't finished all of them.
I got a juror summons last week, and had to send in my school information to get it postponed. I also got an overlay for a large hole in one of my back teeth, but it's very fragile, so I can't chew on hard things with that side of my fffface anymore.
Scrubs is coming to Comedy Central. That is cah-ray-zee.
Also, NEW MP3 PLAYER!! Yaaaaaaay! I love it a looottt. Ever since my iPod broke (and the replacements broke), I've been rather musicless outside of the computer and car, so I finally decided to get a Zen Vision:M. It's so awesome! It's 30GB, stores pictures and videos, and has an FM radio built in.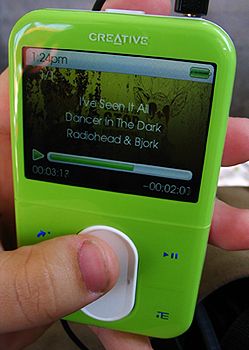 Isn't she beautiful?? Ignore my freakishly shaped thumb, pls.
SAUCY!