Icky school. Ickyness.
My family and Michael and I went to Monterey Bay Aquarium today and we saw jellyfish and turtles and and...and penguins.
Tomorrow we're going to see Michael Bublé in Oakland!!! AAAAaaaaahhhhh!!!!!!!! He's my Canadian husband. I don't think I've ever mentioned it, but I'm married to three different people. One from Canada, one from Florida, and my Southern wiffles. But back to Bublé.
I don't know how much people have heard him (or heard of him), so I thought I'd put a few songs up in case any of you are interested.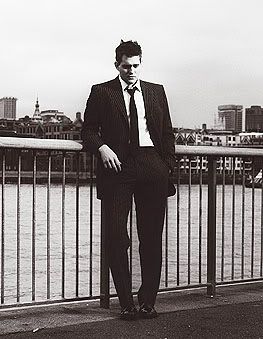 I feel deeply in love with Bublé's voice a few months ago when I happened across one of his songs. And then I found out that he's also cute and really funny, awesome and Canadian. I love him. He doesn't write original music, choosing instead to cover classic crooner tunes. That said, here are three songs (one from each of the albums I have).
A fun, sexy song: Sway
[3.61 MB]
A love ballad: You and I
[4.50 MB]
And a different, very classic love song: My Funny Valentine (live)
[6.03 MB]
I think I may do something similar to this before the Decemberists concert next month.
Sleeple timez.