Sorry it took so long, but there were a lot of pictures to go through.
I'll just comment on the pictures that I have the energy to make comments about, so if you want to know about something in particular feel free to ask.


Thursday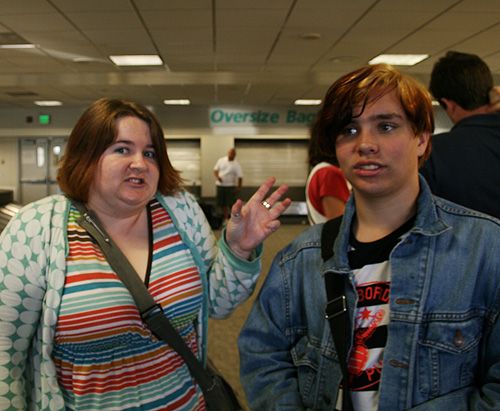 My attractive companions.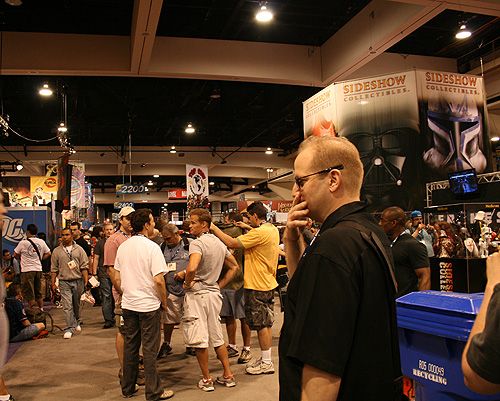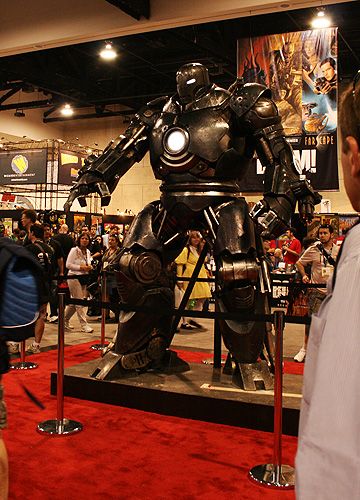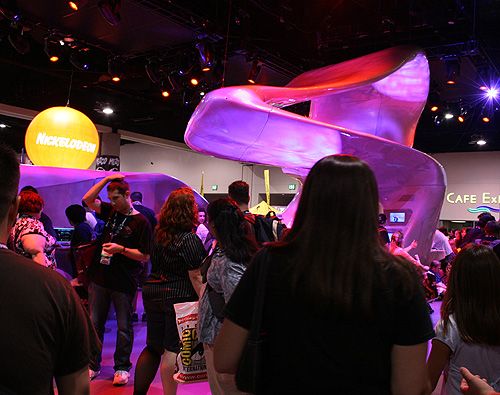 The always-wonky Sci-Fi Channel booth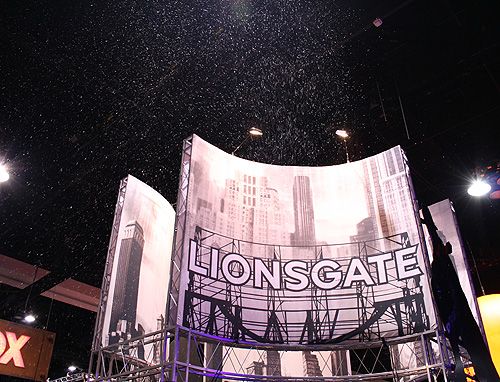 Tiny, tiny bubbles rained down from The Spirit's promotional booth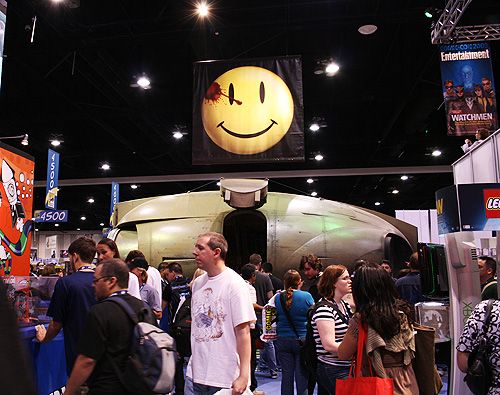 Archie was on display at the Watchmen section of the WB booth.

The most exciting thing at this year's Comic-Con, for me, was definitely Watchmen. If you don't know, Watchmen is one of the best graphic novels ever, and now, 20 years later, the movie is actually being made. I was there last year when Zach Snyder announced that he would be directing the Watchmen movie, and was received with a lot of excitement and hesitation. Watchmen is not the kind of story that's going to translate well to the big screen unless it's handled extremely well. I don't just mean that an army of nerds will rise up in fury because it's vaguely inaccurate (that will happen no matter what); I mean that it's not the type of story one would normally see in Hollywood...at all. It's so incredibly layered and dark and beautiful, and if you want to read a fantastic graphic novel, make it this one.

Anyways, I was excited when I heard about the movie because I thought that (however you felt about the movie itself) Zach Snyder did a great job of adapting 300 from its source material, and if anyone can pull this off, he can. He hadn't shot any footage last year, though, so there wasn't much to do other than speculate about what he was going to do. The first trailer for Watchmen was released with The Dark Knight, and when I saw it I thought it was incredible. It looks and feels so much like the comic, with some interesting changes. So I attended the panel at Comic-Con and OMG IT WAS AMAZING! They showed a very short series of clips similar to the trailer, and I swear I cried a little because it was so epic. The actors are all really into their roles, and Zach is a total nerd. I particularly liked Billy Crudup as Doctor Manhattan and Jeffrey Dean Morgan as The Comedian (I believe it!! He IS Edward Blake!). I am so excited now.

Okay, I'll nerd out about it more later. Back to the pictures.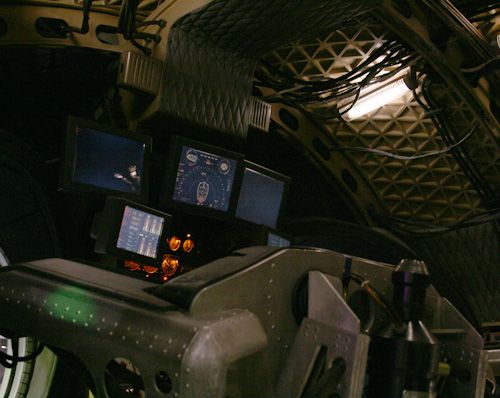 The inside of Archie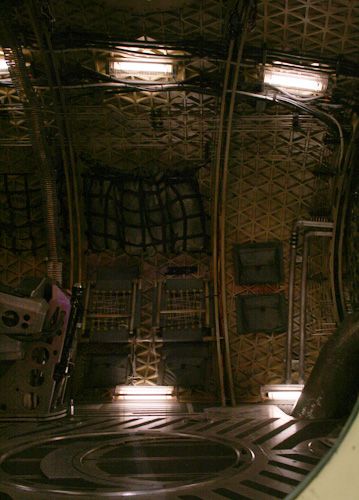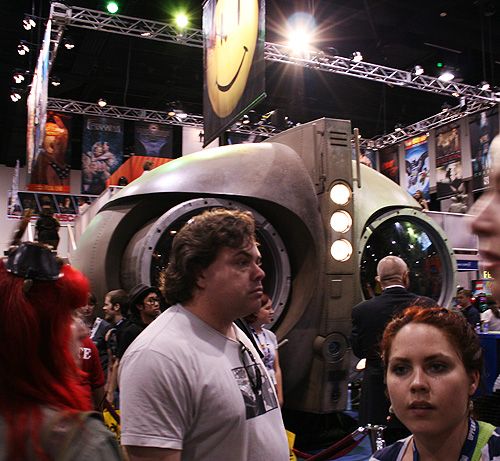 Hi Archie!!!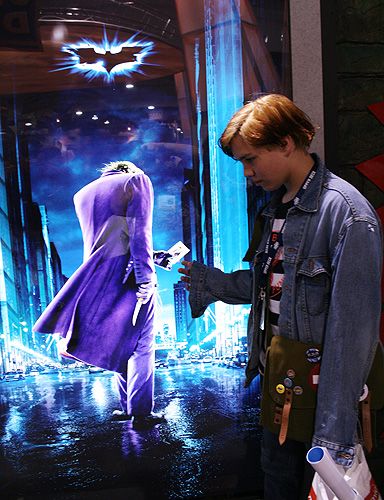 ERIK! DON'T TAKE IT!!!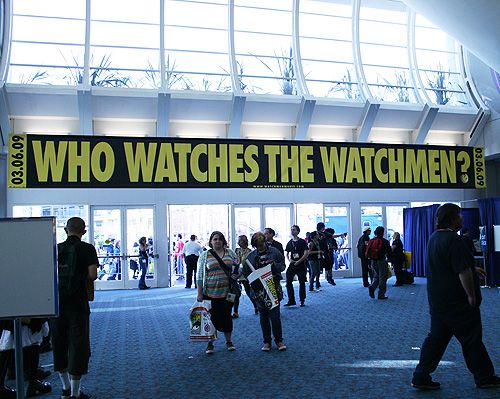 Awwwwwwww yeaaaaaa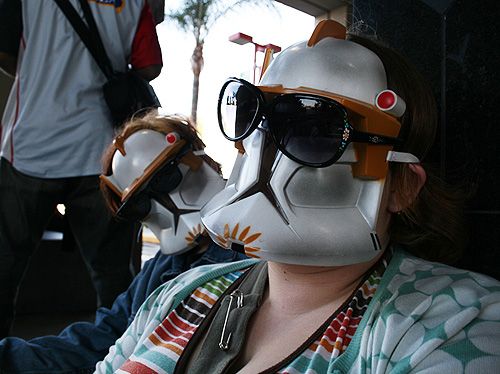 what

Friday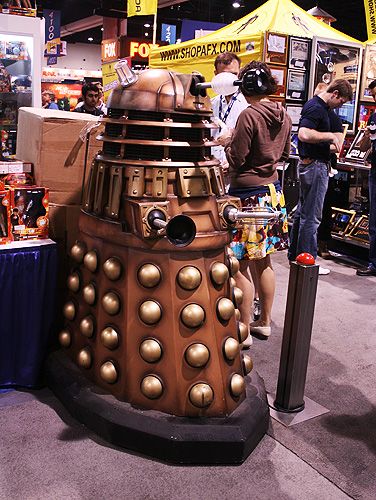 He was life-size! I got away before he woke up, don't worry.



You can't tell me where to go, Silo.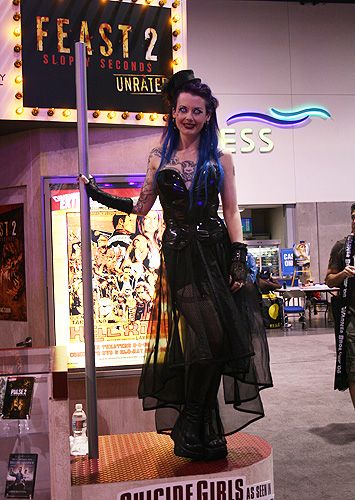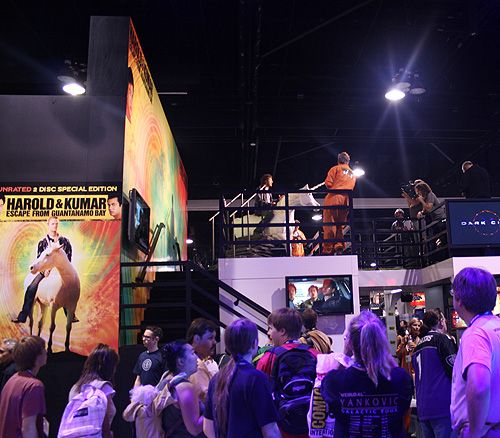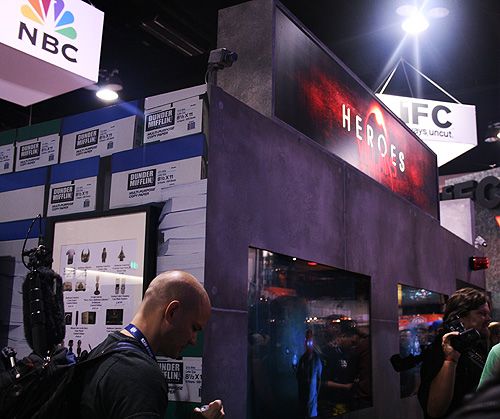 The NBC booth had three sides: The Office, Heroes and 30 Rock. The front of the Heroes area had two screens with eerie footage of mysterious men in high security prison cells.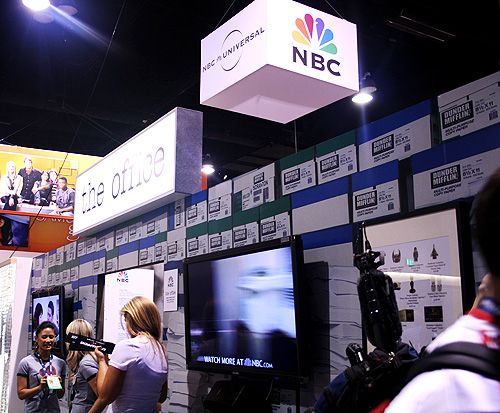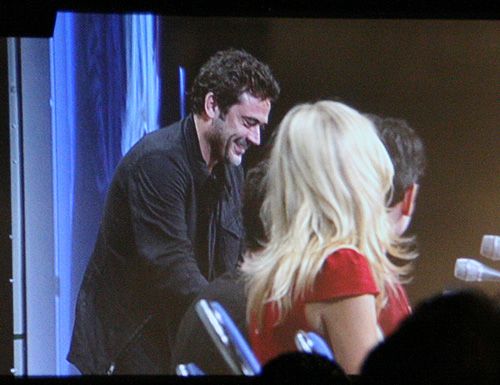 The Watchmen panel. Jeff!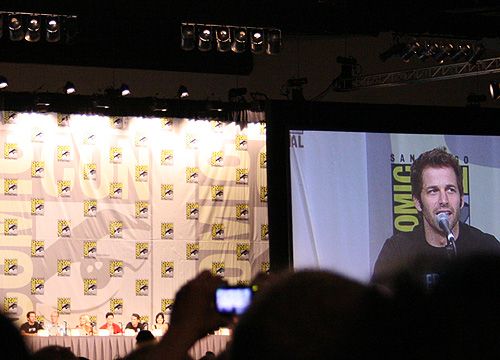 Hay Zach!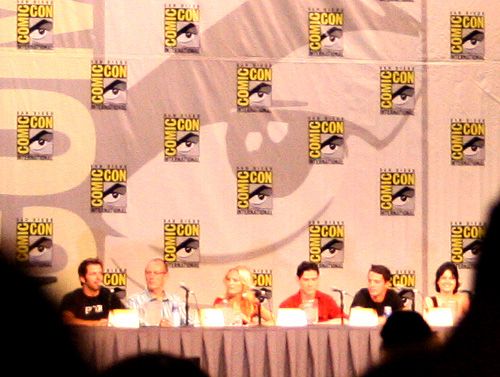 Hay guys!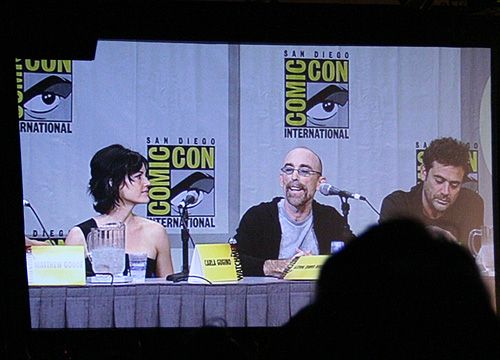 RORSCHACH!!!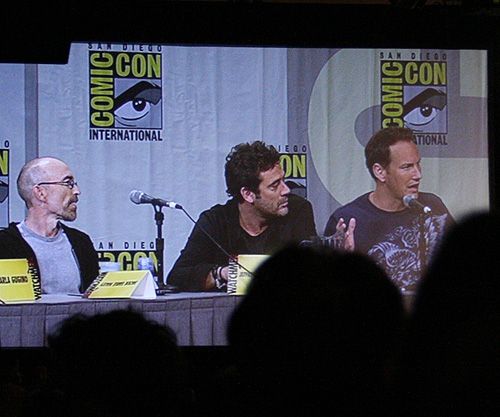 I gots a shirt!!! Aahahahahahahahaa, I love it.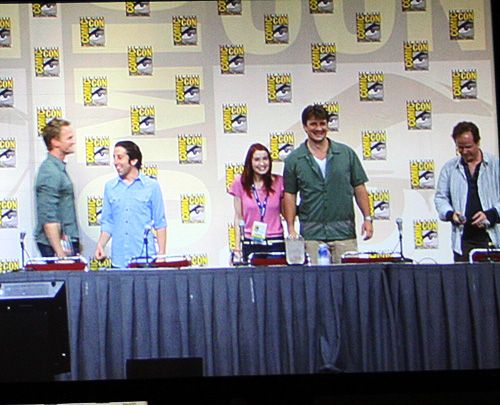 HAY LOOK IT'S JOSS WHEDON AND CO.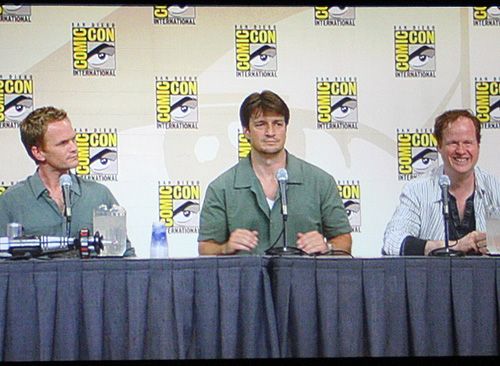 Joss is amused. Nathan is not.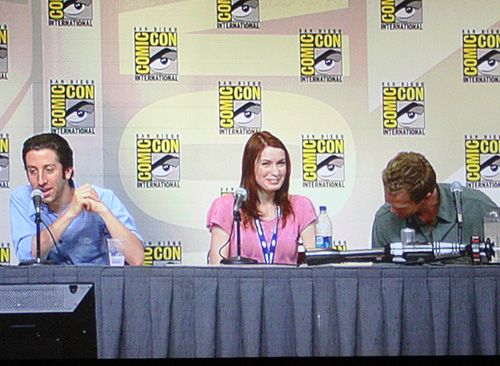 Uh-oh, funnytimes happening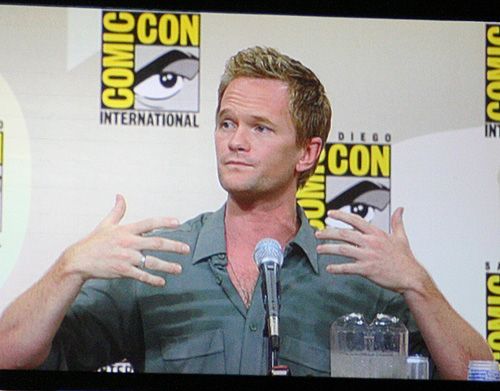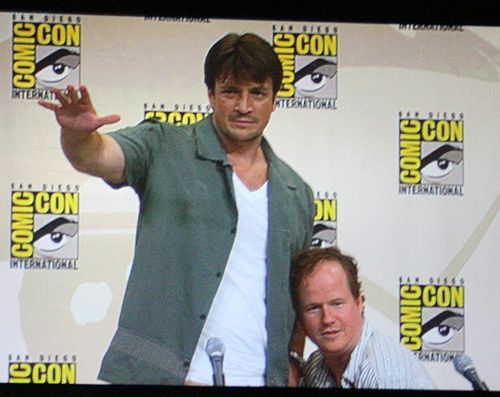 what.
Best part of the panel: Neil pulled Nathan's seat out from under him as he was sitting down. It was like a real life translation of their Dr. Horrible personas.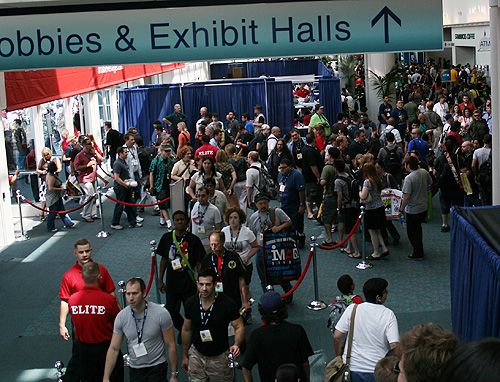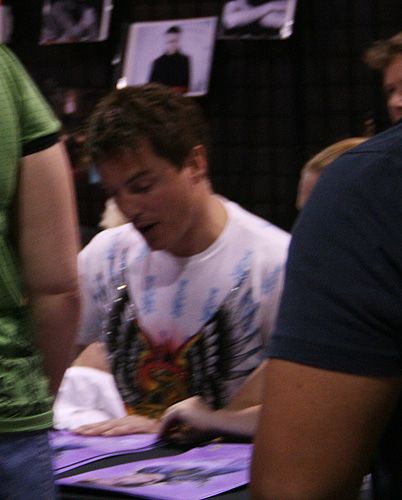 I saw John Barrowman real quick! Captain Jack was verrry busy.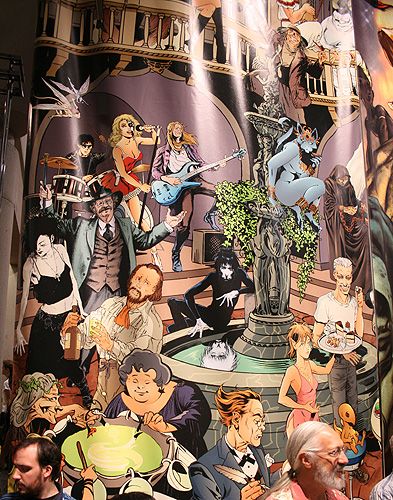 They had a huge banner of the GORGEOUS Sandman poster that was made for the anniversary this year. I now have that poster, and I'll put it up when I finish cleaning up my room. It has nearly all the major/feature characters, and they're all drawn by different artists. You can even see Neil in the background playing the drums! Heeehehehe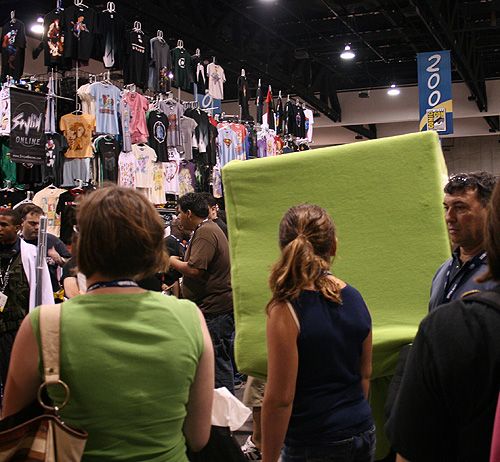 This is the back of a giant GIR costume. Only a few minutes before this there was someone with a really good nurse Joker costume, but I wasn't able to get a picture of him. It was hott, though.

Saturday

When we got up on Saturday morning, we headed right for the Heroes panel, only to find that the line to get in was a mile long. LITERALLY a mile long. Luckily it was in the largest room in the convention center with a near 7000 person capacity, and we juuuuust managed to get in.



Zachary is adorable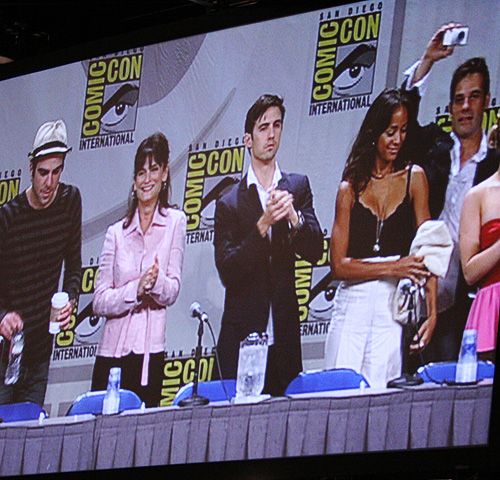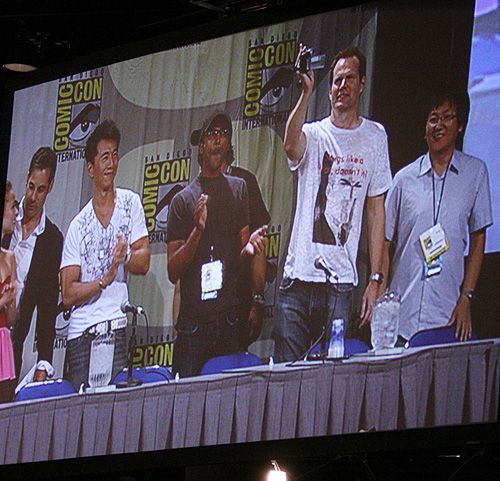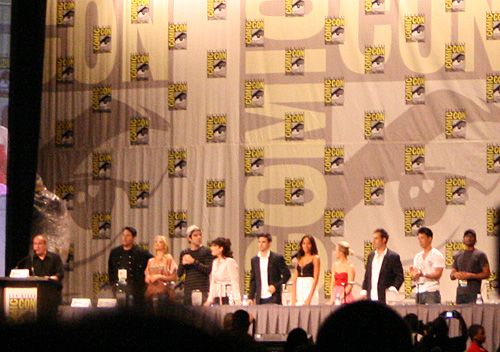 What a beautiful cast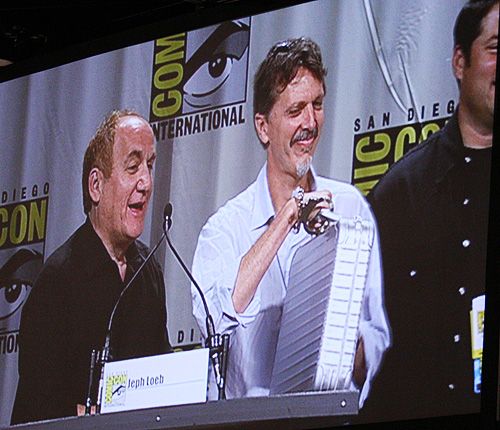 Tim Kring came out with a metal briefcase handcuffed to him. The briefcase contained the first episode of the new season, which they proceeded to screen for us. It was very exciting, and the end is crazy.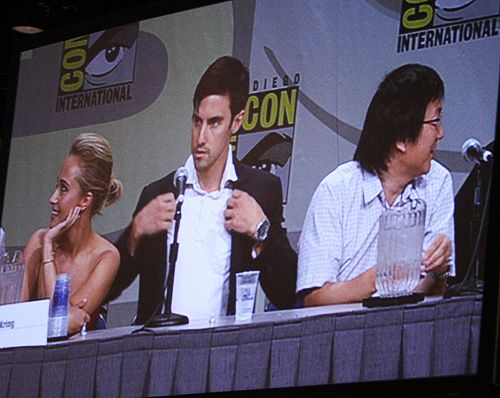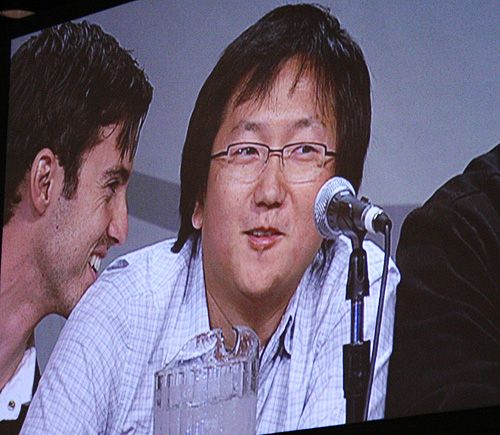 Misa said something funny, and Milo face-bumped him in the shoulder. So adorable.



They each had to say one word to describe the new season. Grunny's word was "sexy".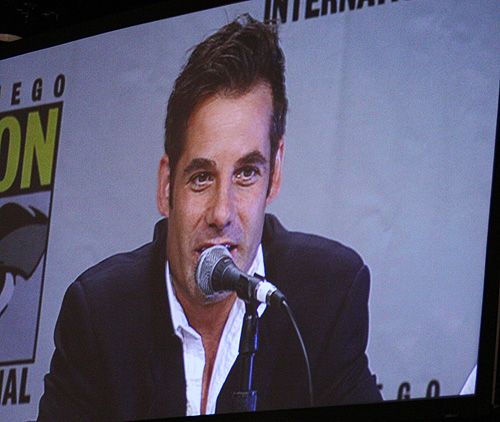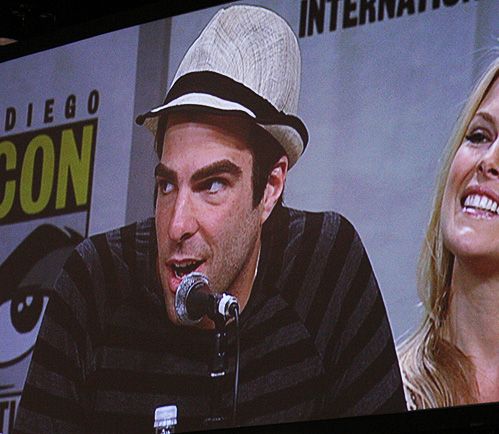 During the Q&A, a little kid asked Zachary a question about Sylar, but accidentally called him "Silo". A few questions later, someone else asked a question about Sylar, and Zachary said "I believe the name is 'Silo'". :D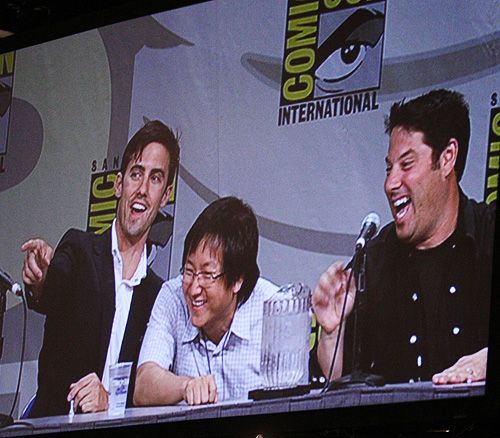 I don't know what's going on here, but it sure looks exciting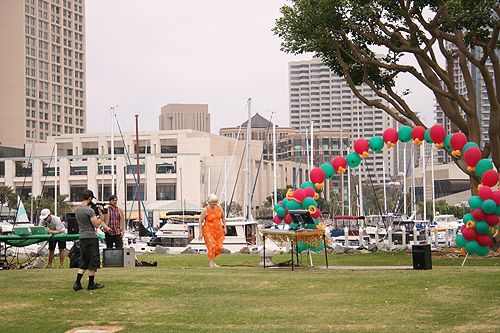 Awesomecon! There was karaoke this year, featuring all the Tim and Eric songs.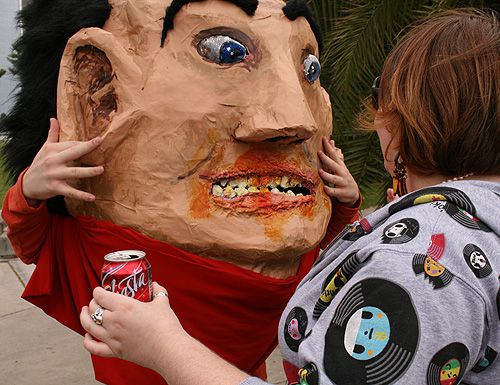 Two people were dressed as Tim and Eric characters with giant heads, and Spagett was running around spooking people, including Erin.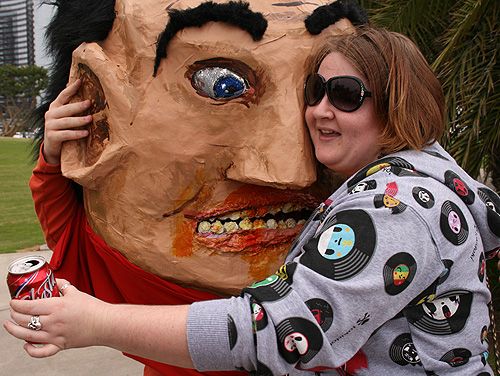 Daw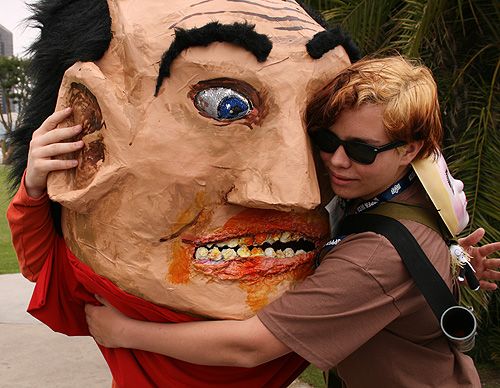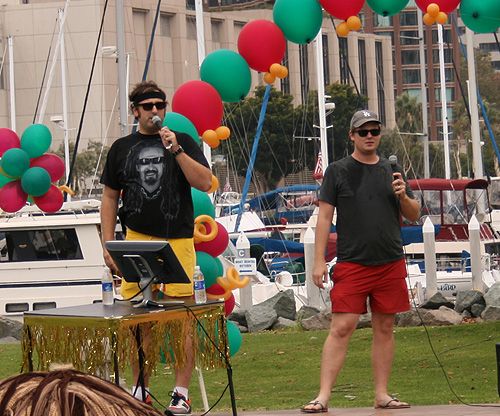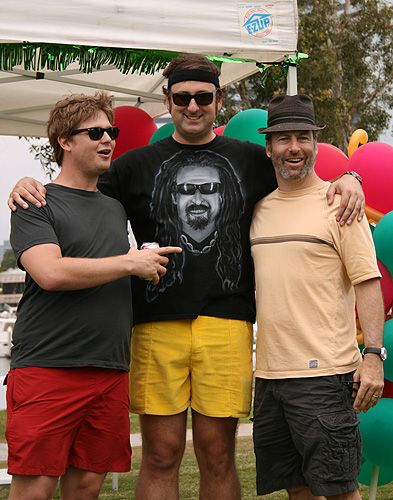 Tim and Eric, featuring Bob!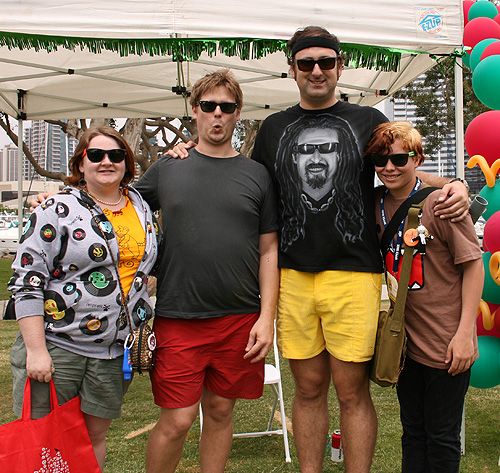 Family of sunglasses.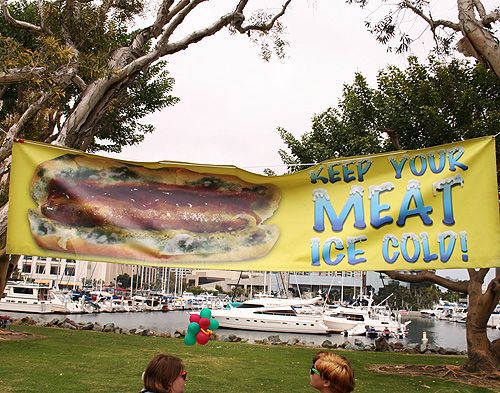 They had this banner last year, but those pictures were lost in a hard drive meltdown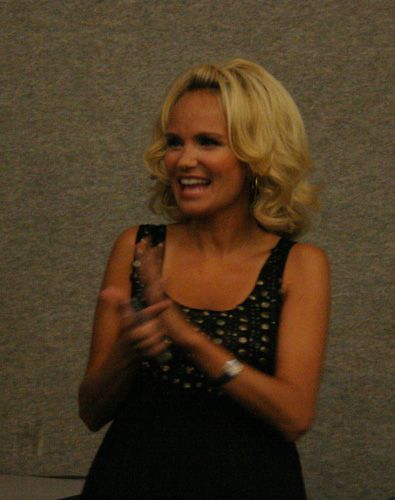 The whole cast of Pushing Daisies was standing right next to us when everyone was being introduced for the panel. I only got a picture of Kristin, though. Isn't she adorable??



It was a very entertaining panel, and we got to see a trailer for the new season, which seems to prominently feature nuns, bees and a(the) pig. Awesome. We got to hear Kristin sing Somewhere Over the Rainbow too!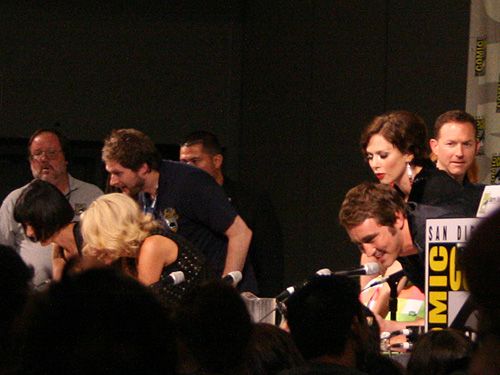 During the panel Lee Pace made a very interesting comment about Heath Ledger's death, and how playing such a dark character has a deep effect on the soul. It touched me, in a way.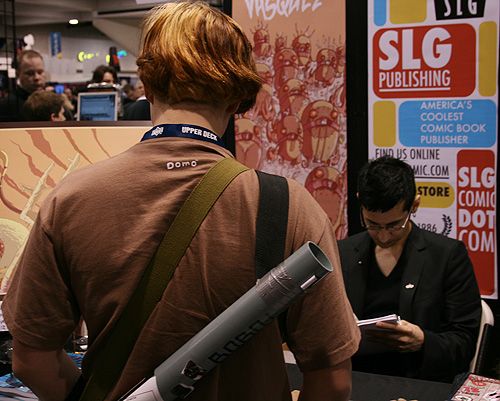 Erik getting a sketch from Jhonen.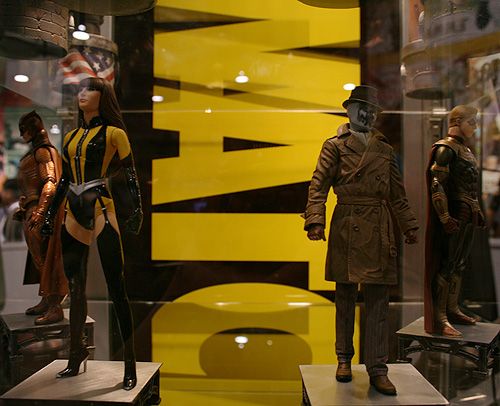 It was really cool seeing the new Watchmen designs up close.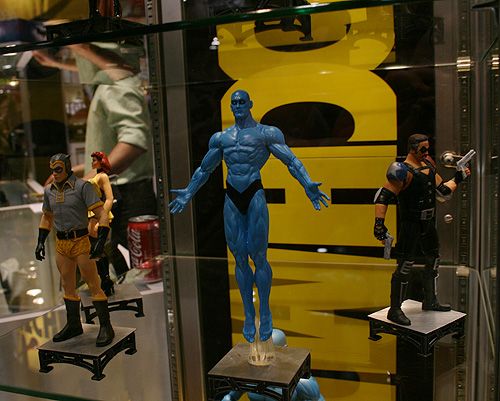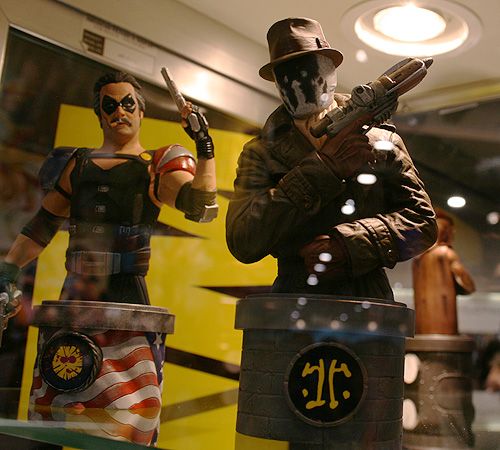 Want both of these please, thnx.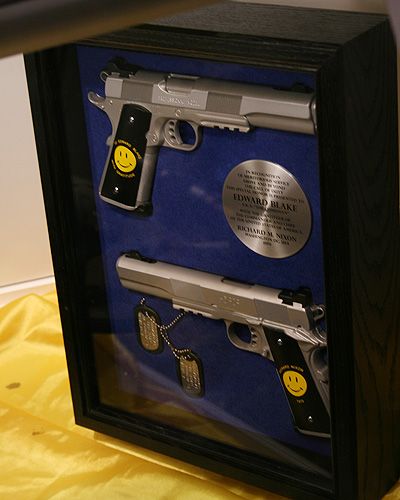 Yes, the little circle says that the guns are dedicated to Edward Blake by Richard Nixon. Aahahahahahaaaaahaha, I LOVE IT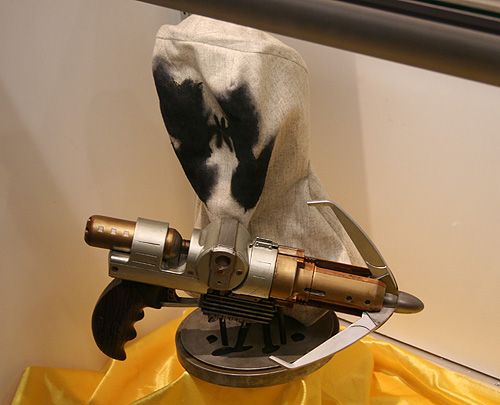 Sweet.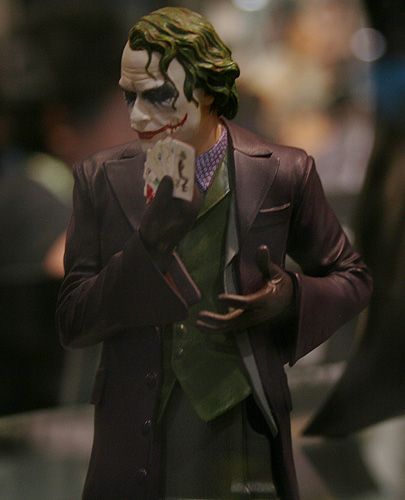 o hay joker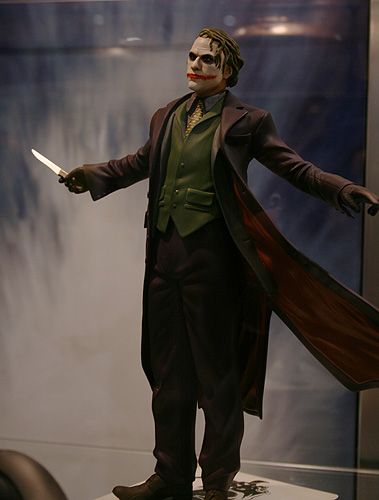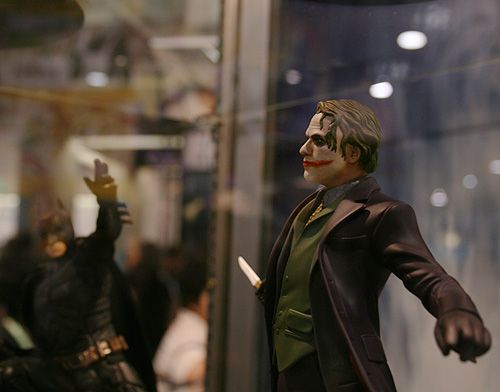 I think Batman is jealous here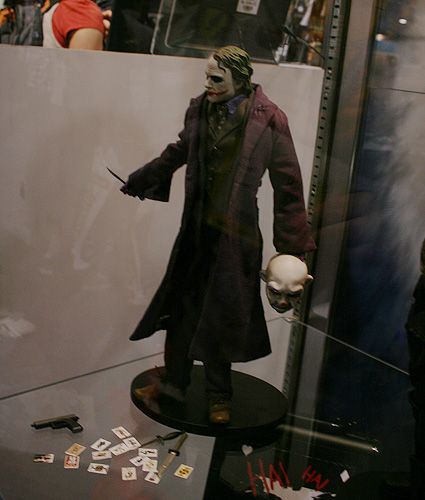 Tiny cards! So tiny!



This is amazing.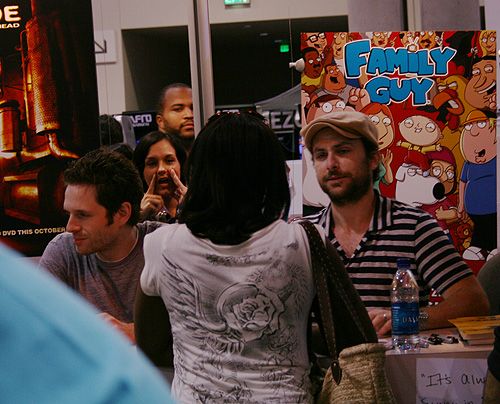 CHARLIE! DENNIS!!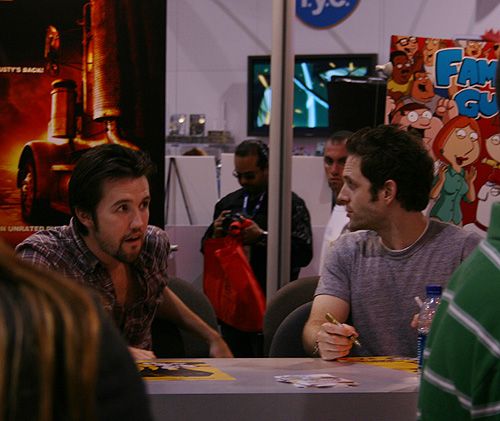 Looks like Mac is scared of something...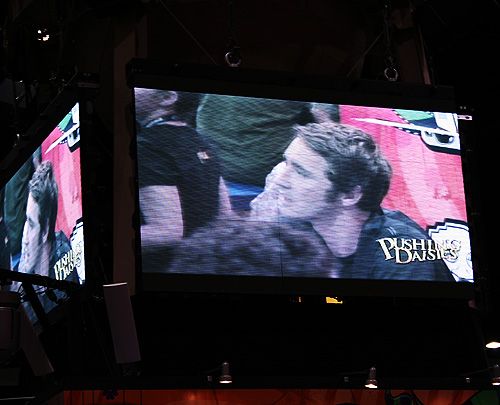 Hay Lee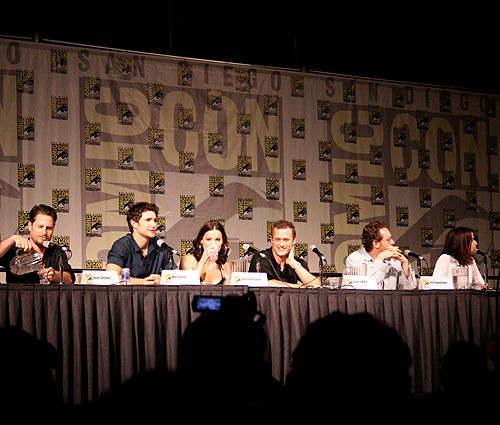 We sat in on this panel so we could get into Mythbusters. There were the people from Kyle XY, the US Life on Mars and Middleman. I reeeally wanted to get up and ask the US Life on Mars guys a question, but it was too crowded and I couldn't get out of my seat without disrupting things.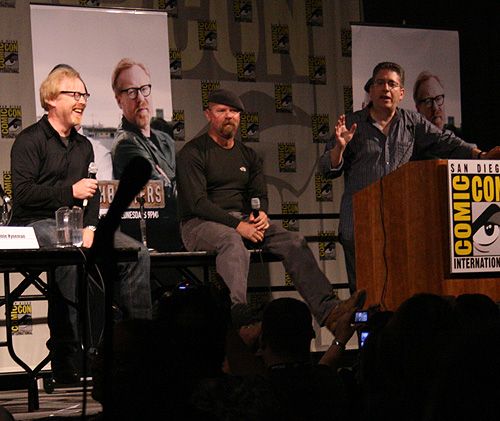 Adam and Jamie! Yayayayay!!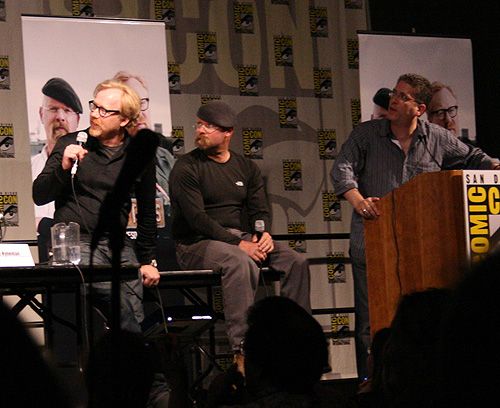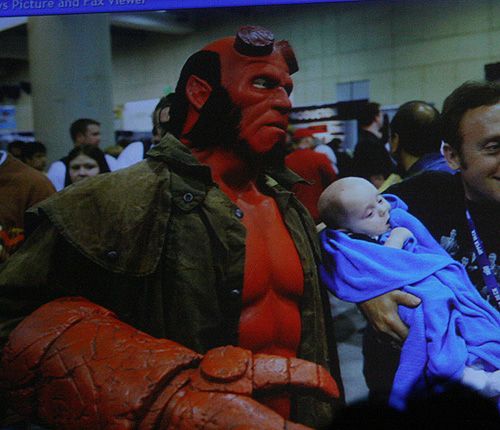 Adam showed us his pictures from the floor.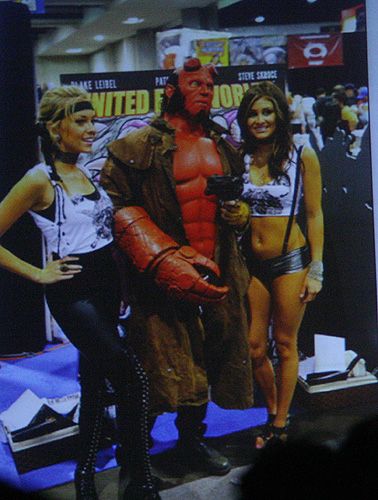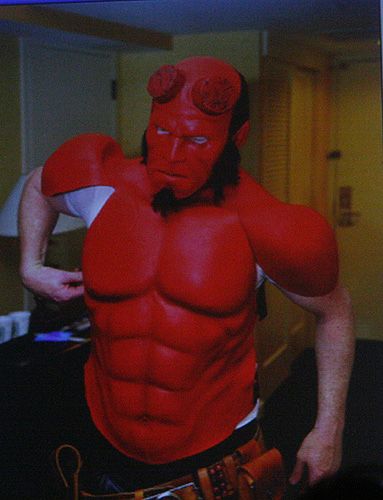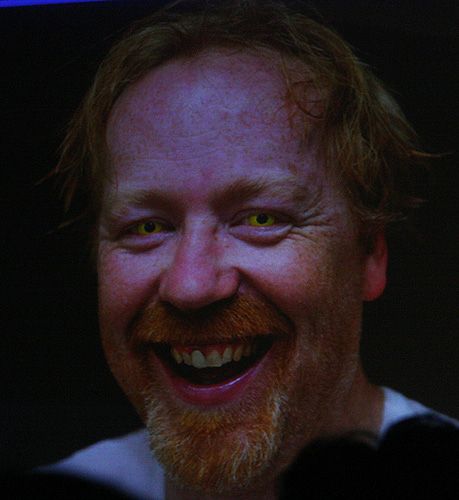 He'd been dressed up as Hellboy on the floor all day!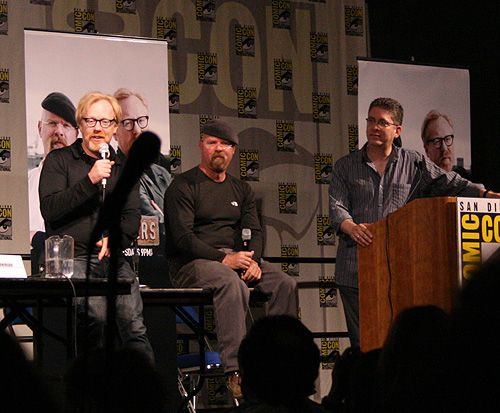 They showed some really funny clips from the "sobering up" experiments. It was great.

Sunday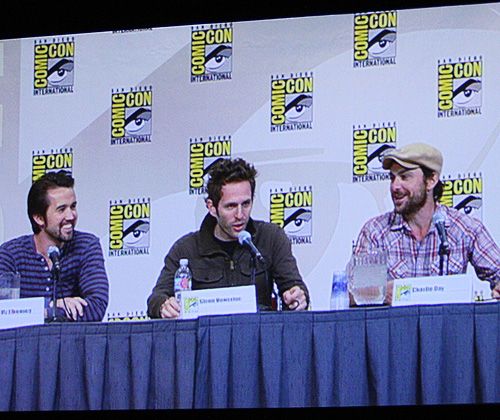 It's always sunny at Comic-Con! We got to see a screening of the first episode from the new season of It's Always Sunny.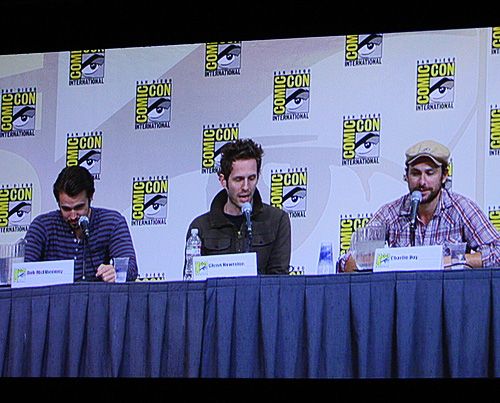 Unfortunately I didn't get a picture of the nipple rubbing. ):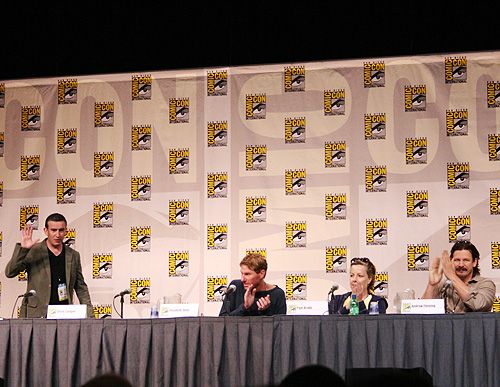 The minds behind Hamlet 2, with Steve Coogan.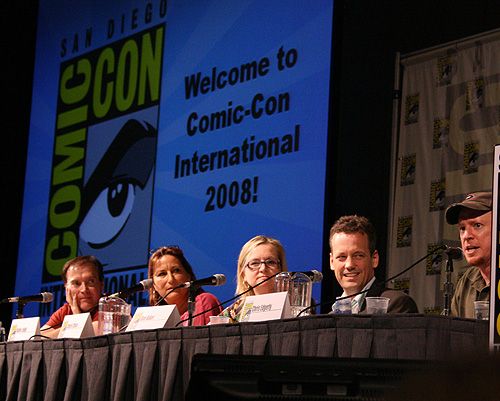 Voice actors panel! I can't remember most of their names, but the person on the far left is the infamous Billy West, and the rest have done various well known roles. Voice actor panels are always hilarious.



The sole feature of the Adult Swim booth this year. The fortunes were part of a special drawing.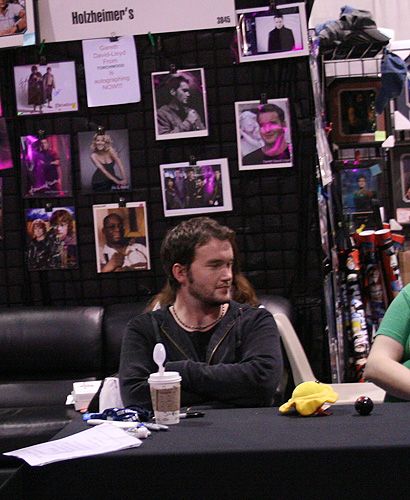 Gareth David-Lloyd, otherwise known as Ianto Jones.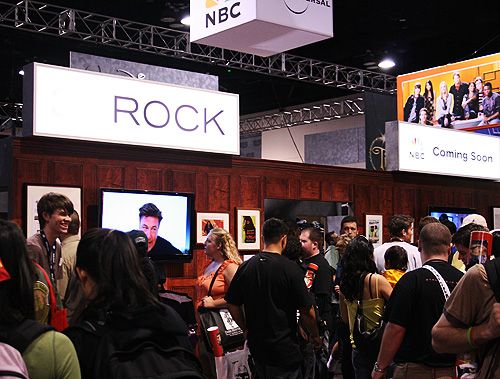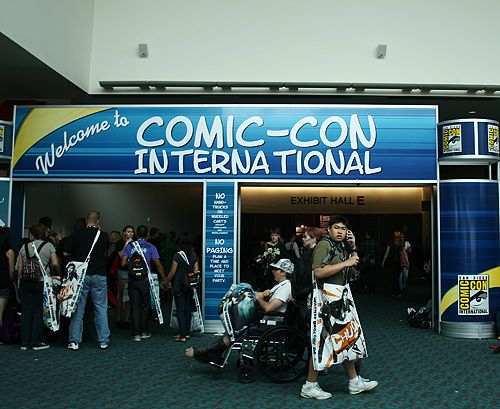 The End!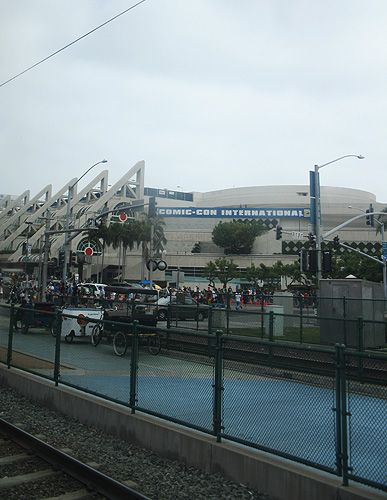 Byebye Comic-Con, until next year!


There were a lot of pictures I didn't post because they're superfluous, but if I upload more on another site I'll post about it.
One thing is that at the DC booth they had the new official Watchmen posters for each character. You can see them here, but for my fellow Watchmen fans I just wanted to point something that I totally geeked out over.

Wait for it...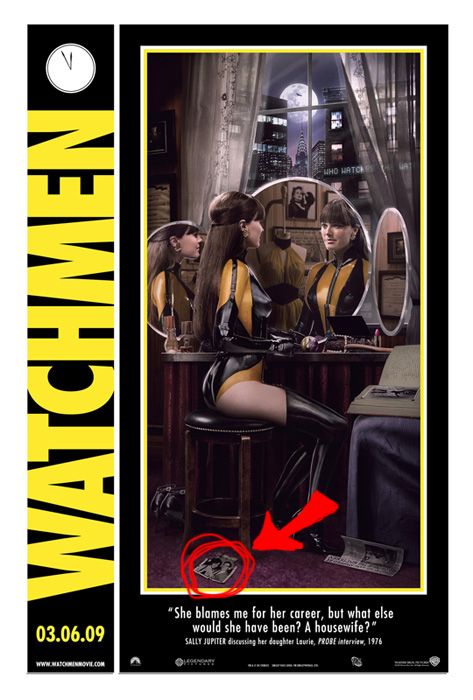 ...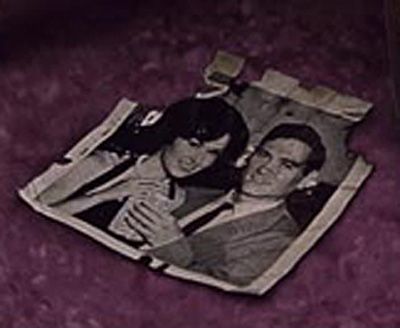 AAAAAAAAAAAAAaaaaaaaaaaaaaaaaaaahhhhhhhhhhhhhhhhh!!!!!

For some reason that just got to me. Oh my god, I LOVE IT.

And the movie website is here. Oh gosh I'm excited.