OH it has been a long week.

I can't believe they're showing Evangelion on Adult Swim. It's been YEARS since I've seen it.
In case y'all didn't know, I used to be an anime nerd. Like, from when I was 11-16 or something like that. Nowadays I complain about how in my day, you had to walk 15 miles in the freezing cold to get to the comic store, and when you got there, they MIGHT have SOME anime to watch. Now you can find anime at Blockbuster and everywhere and you can find rows and rows of manga at Borders and poop.
Anyways, there's too much anime these days. I couldn't catch up if I tried. I still have a lot of my favorite older anime on video. Trigun, Fushigi Yugi, Slayers, Magic Knight Rayearth, Rurouni Kenshin. I even have the final season of Sailor Moon fansubbed. :o
If there was a point to this rambling, it's this: Evangelion is a good, classic show. Quality. And it has a penguin in it.

In other news, my friends and I are going to a midnight Rocky Horror showing the weekend before Halloween. Hot.
Also, I forgot to mention this, but...Anthony Stewart Head played Frank in some London showings? What?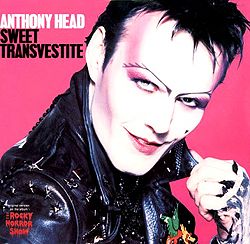 That's pretty awesome.

I'm working on my costume. It's kind of a cross between Rocky Horror and Shock Treatment; i.e. a doctor wearing a corset and stockings. I've got most of it together...all I need are shoes and a thingy.
Here's what I have so far:




I can't wait.